Silent Storm (often abbreviated as S² or S2) is a tactical role-playing video game developed by Russian game development company Nival Interactive and published by JoWood for Microsoft Windows. It was released in 2003, the game also had an expansion pack named Sentinels that was released in 2004.
Gameplay
Edit
The player commands a team of up to six soldiers for the allied or axis powers to undertake a variety of misssons for either side. When the player starts a campain, they can either pick a premade character or create their own in the character creation menu to lead the team of soldiers. Once the introductory misson has been completed, the player has access to a base, completed with a medical station, armory, personnel and a panzerklein hanger, which has to be unlocked though playing the main misson.
Campaign
Edit
Silent Storm is set in World War II. The player is simply a commander of a squad of soldiers who are sent to top secret operations. It is possible to play as Axis or Allies.
Silent Storm engine
Edit
Silent Storm and its expansion pack uses the Silent Storm engine developed by Nival Interactive. It was developed specifically for the game hence the name. It was also used in some other titles such as Hammer & Sickle and Nightwatch.
Characters
Edit
Playable
Edit
Abala
Arvid
Bob
Doug
Elf
Gator
Jerzey
Kate
Kwon
L.A.
Matt
Nessie
Oleg
Oz
Ramos
Rowdy
Taras
Viper
Yves
Zinaida
Ahmad
Axel
Carmelina
Dani
Eagle
Fritz
Gari
Gunnar
Holly
Javier
Kenko
Klaus
Mike
Olli
Paco
Reinhard
Rocco
Tadas
Toki
Zail
Allied Command
Edit
Col. Terrence Whitmore
Capt. Susan Norris
Sgt. Brian Ozwell
Thor's Hammer Organization
Edit
Equipment
Edit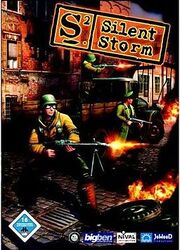 External links
Edit